Background Data for Prowler
Project History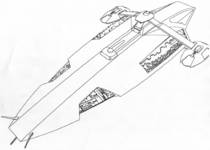 In the news: Prowler Outage (2007/03/02)
View: Article
Project: Prowler
Donated by: Sean Murphy

Veteran Wing Commander artist Sean Murhpy kindly wrote up an article explaining the history of this project.
Developer Chat Log
In the news: TC's Filler Update (Third in a Series) (2001/08/19)
View: Article
Project: Prowler

This is a log of an Origin sponsored chat at the 3DO chat room on AOL in 1995. Our version is edited for clarity... you can find the original log here.