Advertisements & Promotional Material for Shadow Force
"Maverick Mix" Internal Product Pitch
In the news: You Can't Reinvent Wing Commander! (2011/08/11)
View: MP3 (6.2 MB)
Project: Shadow Force
Date: 1998?
Source: Origin

An absolutely insane sound file dredged from the depths of Origin history! Labeled "Maverick Mix", this four minute combination of music, sound effects and conversations is one of the strangest things you'll ever hear. It was part of an internal product pitch for "Shadow Force," and it begins with a Chris Roberts imitator, goes on to play some new music and ends with a conversation about what the new game was going to include. Warning--contains some language.
Shadow Force Sell Sheet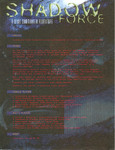 In the news: Selling Shadow Force (2011/08/19)
Project: Shadow Force
Date: 1998?
Source: Origin
Donated by: Billy Cain

Shadow Force was a game developed by the Maverick team shortly after Secret Ops which would have featured single- and multiplayer-gameplay, telling the story of a group of mercenaries hunting for a Steltek artifact. Sell sheets were sent to retailers to promote upcoming games, in the hopes of securing orders. It's likely that this one was only used internally (alongside this longer presentation), to promote the game to Electronic Arts executives. Unfortunately, it didn't work!