Wing Commander: Secret Ops
Wing Commander Secret Ops was a bold experiment in episodic internet distribution. Beginning in August 1998, one episode was released each week for eight weeks. New fiction and backstory was released on Monday, Tuesday and Wednesday, and a corresponding mission pack came out on Thursday. Depending on their perfomance, players were given a password which would influence the fiction they read the following week. After the experiment was concluded, Secret Ops was bundled and sold in the Prophecy Gold collection. The story put Lance Casey and his squadron aboard the TCS Cerberus Quick Strike Cruiser. They fought the alien Nephilim menace once again, but this time the point of incursion was in the inner core of the Confederation. Along the way new revelations about the insectoid race were uncovered and Confed appeared resolved to take the fight to enemy in the near future.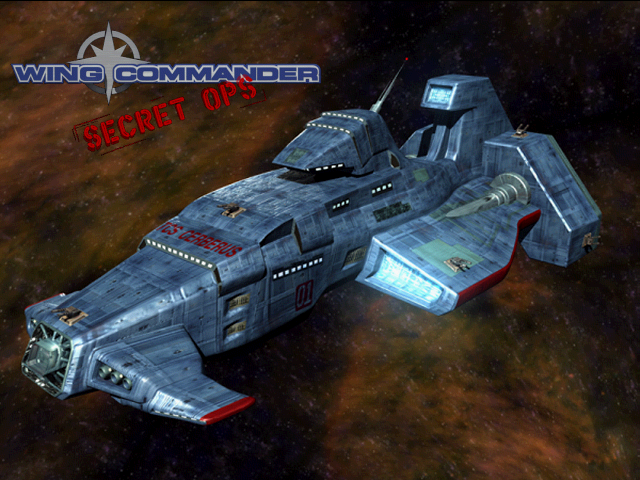 Intense Battle Scenarios: Multi-stage capital strike missions create larger, more intense battles.

New Weapon Technology: Command the galaxy with new rapid fire weapons such as the Dust Cannon, Cloud Burst and Mosquito Missiles.

Powerful New Starships: Introducing Cerberus, Confed's first "Quick-Strike" Carrier, new Cruiser, Destroyers and civilian cruiseliners.

More Intense Story: Continuing where Prophecy left off, join the Confederation Intelligence Services and fight for mankind's very survival.
Screenshots
Where to buy
Prophecy Gold can be found on various auction sites and works well in Windows 7 or higher. The easiest way to enjoy the game on a modern computer and operating system, is to buy it as a digital download from Good Old Games. A variety of small patches have been made to enhance the experience in Windows and overcome technical glitches which have cropped up on newer machines. An OpenGL renderer patch greatly enhances the graphics quality.
Playing the game
Don't know how to land your ship? Stuck on a particularly difficult mission? The following items may be of help:
Included game documentation
Manual
The flight manual from Prophecy Gold. more...

Episodic fiction
Only available online, this episodic fiction was missing from Prophecy Gold. more...

Secret Ops Guide 2.0
No official guide exists, but Shades2585 has put together an excellent Revised Secret Ops Guide. In addition to detailed mission walkthroughs, it features updated stats from the Prophecy Gold documentation. There's a chapter on history with FAQs from the original launch, a chronology of the release events and bits of fiction that many people originally missed. It completes the Secret Ops experience with codes for the game, interviews with Secret Ops development team members and a collection of official announcements published in 1998. more...

Behind the scenes
Detailed release information
Windows 95
Published by Electronic Arts
Released 1998-08-27

The starter package with the first set of missions was released on August 27, 1998. Subsequent episodes was released on September 3, 1998 (Episode Two), September 10, 1998 (Episode Three), September 17, 1998 (Episode Four), September 24, 1998 (Episode Five), October 1, 1998 (Episode Six) and October 8, 1998 (Episode Seven).
Prophecy Gold
Released 1998-10-14

Includes a fourth CD-Rom with Wing Commander: Secret Ops and an updated ICIS manual.