STARLOG Movie Hits Wing Commander
In 1999, just before the Movie came out, STARLOG sci-fi magazine published a special Wing Commander edition. Besides having Freddie Prinze Jr. on the cover, 'STARLOG Movie Hits Wing Commander' was largely devoted to the upcoming motion picture. The special publication focused on the behind-the-screens aspects, featuring interviews with cast and crew, articles and a great number of pictures, art designs and sketches.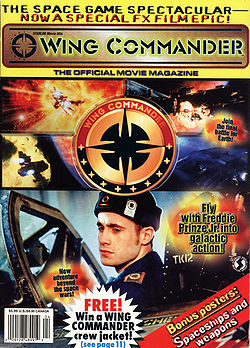 Written by David McDonnell (Ed.)
Published by Starlog
Released 1999
Softcover format
89 pages
ISBN: 0934551685
Notes
See here for contents.