Rick Salemi found a couple of news clips from the Sci-Fi Channel's weekly newsletter that include commentary from Privateer 2's Clive Owen. Although he was lucky to have a variety of real sets to work with during the P2 shoot, the experience was one of the first where he interacted with a wide range of special effect elements during filming. Since then, he's gotten quite a bit of practice in movies like Sin City and Children of Men. You can read about his feelings on green screen photography below. The full news clips are available here (half way down).
Computer imagery was used to create the futuristic world. Owen said that acting becomes more complicated when working with backgrounds that need to be added in later. "We'd have to rehearse for a very, very long time, and it was very painstaking and specific," he said. "But then when we came to shoot it, it had to feel like we were catching it on the run. You have to feel like you're in the thick of it, and it's all about pacing. If you hold a beat a bit too long, it will suddenly feel a bit manipulative, like he's held there until we see the tank just over his right shoulder or whatever. So we worked very, very specifically about what we wanted to see and what we wanted to catch, and [when] we went for it we had to shake that up and keep energy that was much looser than that. They're very adrenalized, those sequences, because they're hugely set. Some of those bigger ones are four- and five-hour resets to try and go again for a take like that. ... I think that, technically, some of this film is pretty staggering."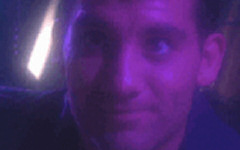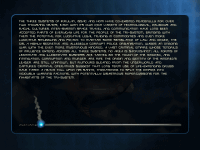 Make sure you also check out the P2 screenshot on the right. The Tri-System backstory depicted there is displayed during the game's initial installation.