Tarsus
The Terran Knowledge Bank
Tarsus
Type
merchant scout
Primary User
civilians
Retirement
late 2650s
General Characteristics
Crew
1
Cargo Capacity
100 units (150 with cargo expansion)
Cost
c50,000 (on trade-in)
Performance
Maximum Yaw
95 dps
Maximum Pitch
105 dps
Maximum Roll
97 dps
Acceleration
275 k/s2
Velocity
Maximum
300 kps
Afterburner
Maximum Afterburner
600 kps
Armament
Guns

2

Mounts
2
Turrets
None
Default Missile Loadout

2+1

Mounts
2
Defense
Shields
Shield Level
7
Armor
Front
100 cm
Rear
100 cm
Side
50 cm
Tarsus Target Designation, 2669.
Source
Wing Commander: Privateer
Variants
Playguide
Tarsus

The mainstay of the Exploratory Services fleet just a few years ago, these steady craft are now a familiar part of private enterprise. The Tarsus has been discontinued. We list it here because of its popularity and general availability in the used markets.

Cockpit. Low visibility, especially through the small side windows. Cockpit placements prevents any over-the-shoulder view. Offers one MFD along with standard radar and armor displays (see illustration, p. 12). Comfort is comparable to the Orion but claustrophobic by comparison with the other two models reviewed here.,

Speed/Maneuverability. Sluggish in turns and rolls. Can upgrade to Level 1 engine.

Ordnance/Protection. No slots available for turrets. Supports Level 2 shield upgrades. Two gun racks and two weapon or tractor beam racks.

Overall Performance Rating. I would give it a B in peacetime. With the war so close and the rise of piracy, I have to downgrade my rating to a D. Longevity in Gemini is worth the extra expense of purchasing a better ship or paying for protection.
Gallery
Cockpit
Behind the Screens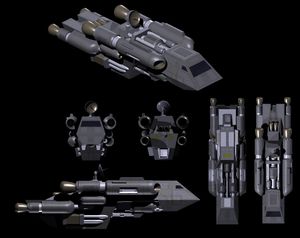 The Tarsus is referred to in the game data files as "CLUNKER".
The original 3D model of the ship from which the gameplay sprites were generated is marked "C-1000" on the rear. It is not visible in-game.