Music Videos of Wing Commander III
Lord of the Wing: Return of the Colonel
This one is a bit more creative than a simple music video. Plywood Fiend has synchronized the Lord of the Rings: Return of the King trailer to various scenes from Wing Commander 3. The harsh landscape of Kilrah mirrors that of Mordor, Aragorn's ancient sword is symbolized by the Behemoth and the good guys are portrayed by the crew of the TCS Victory - complete with Gimli being voiced by John Rhys-Davies. It's a fun clip that everyone should check out.
Details
Download
Screenshots
End Of All Hope
This one is almost entirely action oriented with a variety of fighter duels, personal conflict and capship engagements depicted. The music to match is "End of All Hope" by Nightwish, and Wing Commander 3, Super Wing Commander and Wing Commander Academy all contribute to the commotion. Although they're not used very heavily, the SWC clips are neat for a change.
Details
Download
Screenshots
Best Of Both Worlds' Endings
A wide variety of situations from Wing Commander 3 are synchronized with the lyrics pretty well. Listen quickly to match each scene to the words of the song. Some transitions happen very fast!
Details
Download
Screenshots
Lancelot Flight
"Lancelot Flight" was pieced together from video included in the various versions of Wing Commander 3, so the resolution isn't very high, but it's edited well to cover Blair's last mission of the war. It begins with the introduction of the Temblor Bomb and Blair's treacherous run through the firey canyons on Kilrah. Ultimately the planet is destroyed, the Treaty of Torgo is signed and Blair finally gets a chance at peace.
Details
Download
Screenshots
You Went Away
A sad look at the romantic crossroads that Colonel Blair faces in Wing Commander 3.
Details
Download
Screenshots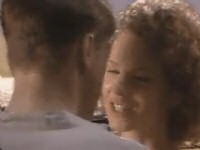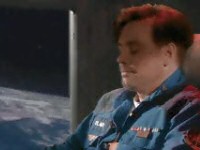 Wing Commander 3 Tribute
This one isn't exactly a music video, but it is synced to the Braveheart Soundtrack. It has a variety of scenes extracted with HCl's movie player.
Details
Download
Screenshots
Armageddon
To the tune of "Armageddon" by Alkaline Trio, this clip explores all the many ways that utter destruction was shown in Wing Commander 3.
Details
Download
Screenshots
Tribute to Thrakhath
This video is done well, but the choice of music is what makes it special. Bonus: Thrakhath gets a helping hand. Find out more here.
Details
Download
Screenshots
WC3 Themed Music Video
Plywood Fiend has created a WC music video featuring footage from WC3 extracted using HCl's movie player with Tourniquet by Evanescence for the video's music. It's slightly fuzzy due to the low resolution of the original videos, but that aside it's an interesting piece.
Details
Download
Screenshots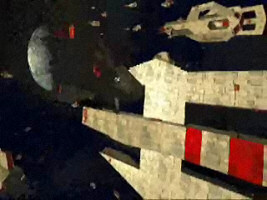 Channel Surfing in 2669
BrynS went to work on the TNC Infoburst videos that we have in our Wing 3 Holovids section. He combined the existing WC3 news videos with quite a bit of his own creative CGI, various sound effects and additional WC scenes to make an authentic looking news broadcast. The final product showed what a futuristic channel surfing night might look like from Christopher Blair's point of view. It turned out really well.
Details
Download
Screenshots