Classic Ad Mentions Never-Released WC Port
Stone48420 scanned a couple of old Wing Commander 3 advertisements that he had around, and they're both pretty neat. The first is a full spread that talks about WC3's imminent arrival for Macintosh, Playstation and Sega Saturn. These were released in late 1995 and early 1996, except for the Saturn port which never made it to stores. Nevertheless, "The Universe Keeps Expanding" was a very accurate title for the state of the franchise in 1995. Pictured second is a one-page ad specifically for the 3DO version of Wing Commander 3. More people probably played the Mac and PSX ports, but the 3DO edition was quite a treat. It featured high quality video, full color comms, reworked missions and new weapons/ships. Although the ground missions were omitted, they were replaced with fancy prerendered videos that demonstrated what occurred on the planets below. WC3 3DO was also where fans got their first look at missing videos such as the Hobbes explanation clip.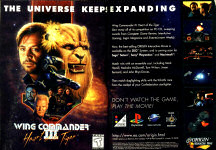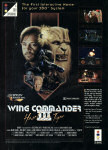 I found a few more things you guys may be interested in. Got a couple of Wing Commander 3 scans: a one page and a two page ad. The origin muesum fellows have the master copy, but I figured people may want to see these.