On The Straith & Narrow
ScoobyDoo's latest wallpaper is a majestic spacescape featuring Privateer 2's starter ship, the Straith. The high resolution image below features three of the little flyers rolling past a planet. Each ship includes his characteristic WC3/4-style engine intakes and steely hull plates, plus there are some other nice touches such as refuel port markings. Scooby has a lot of irons in the fire, so to speak, and he's been working on this ship for well over a year. He's also got lots of other cool P2 ships in his library such as the Krell and Duress. Let him know what you think at the CIC Forums.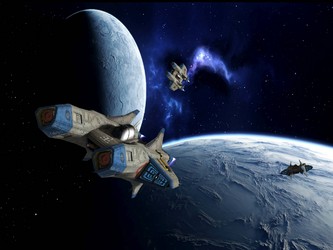 Q: I always wonder, how long it takes to model a spacecraft like this. Is it days or more like months?

A: Some take a week or two, some take forever. Some I get just so far into it and then hit a brick wall and get stuck on the hard drive until I finally figure out what to do with it (a few date back to pre-2008 ugh). Quite a few of these are just back-logged that need to be either updated or just finished. I think I'm finally starting to see the light at the end of the tunnel for Confed ships, about 20 or so left. Then about another 20 or so cat ships, those are harder to find inspirational ideas for.