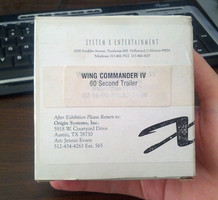 Way back in 2004, Matt D managed to win the auction for Origin vet Tony Marone's 35mm WC4 trailer. This clip was shown in theaters prior to the 1996 release of The Price of Freedom. Matt has long searched for some way to permanently preserve the reel, but a satisfactory option has never presented itself. Various WC4 trailers are available to download, but all cap out at quite a low resolution by today's standards. A new digital scan of this footage would be a nice treat! If you have any ideas on how to digitize this trailer, please share!
Back in 2004 I became the proud owner of a piece of WC4 history; one of the original Wing Commander IV 35mm trailers on film. At the time I purchased the film I was unable to find anyone locally who could digitize it for me.

So it's been sitting in a box all of these years and moved with me from here to there and back again. I unearthed it today and thought that now might be the right time to see if I can get it digitized. If anyone has any suggestions or professional advice on this, please let me know!

I will of course me more than happy to share the digitized trailer with you guys.

And here is a photo of the box. I don't want to take it out of the box because I don't know anything about film and don't want to damage it with the oils from my skin.