Atekimogus has created a wallpaper featuring the TCS Tiger's Claw and its escort traveling by a beautiful blue cloud of some sort. The oldest capital ship design in Wing Commander is still a favorite among modelers and artists. This scene is an evolution of a preliminary model shown off some time ago. The wallpaper is scaled to 1280x1024 and comes in at about half a meg.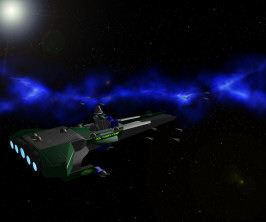 I added a few details to turrets and bridge, played a bit with bump and glowmaps and made this wallpaper. I hope you like it and as always I appreciate your feedback.
You can provide feedback and check out a couple alternate angles of the scene at Crius.net here.