Just minutes ago, brand new Forums poster Blair4523634222 posted startling new evidence about a potential new WC project. Tentatively titled "Blair's Return," so far it does look convincing. Utilizing plot twists that forum posters have been begging for for years, have our prayers finally been answered? The CIC has secured an exclusive screenshot as well.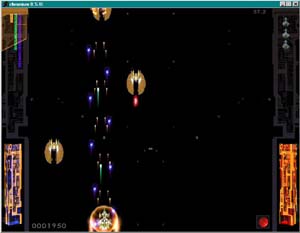 IN THE GAME YOU PLAY THE PART OF SPACE MARSHAL GEOFFRY TOLWYN, BROUGHT BACK TO LIFE BY THE KILRATHI TO PROTECT THEM FROM THE NEPHILUM. IN YOUR SPACE FIGHTER YOU INFILTRAET ENEMY SPACE AND FIND A PRISON PLANET. ON IT ARE MANY HUMANS, ONE IS COMMODOER CHRISTOPHER BLAIR. TOGETHER YOU FLY AWAY BACK TO THE AXIUS STATION WHERE YOUR BASE IS. WHEN YOU ARRIVED THERE, CHRISTOPHER BLAIR GOES CRAZY. *HE IS CONTROLLED BY THE NEPHILIM!!!!!!!*
You can see for yourself (SPOILER WARNING) here. JOIN CIC COMPLETE!