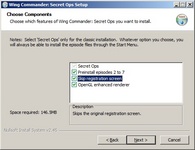 If you're one of the many people that (re-)downloaded Secret Ops so you could check out the Standoff fan project, then you probably noticed that the setup wizard has a few problems on modern operating systems. PopsiclePete set out to just fix those issues, but he ended up creating a vastly improved package. Installing the game and the fan-made OpenGL renderer is now a breeze on XP, Vista and Windows 7. The full list of fixes and improvements:
Fix: Free disk space now correctly reported.
Fix: Shortcuts created in correct location.
Improvement: Windows 95 compatibility mode automatically set.
Improvement (optional): Skip registration procedure.
Improvement (optional): Install and enable OpenGL renderer.
Improvement (optional): Pre-install Episodes 2 through 7.
Download Pete's installer here (105 MB). You can leave feedback on the Forums.
Installing episodes 2 through 7 immediately comes at a cost -- you miss out on the splash screens between episodes. Secret Ops requires a registration key from the (now defunct) official website. A key generator is available from HCl's website, but you now have the option of skipping this step. The OpenGL renderer lets you play in higher resolutions, replaces the original starfields with fancier ones and adds graphical effects that are normally available only on 3Dfx hardware. Players would also do well to check out Shades' extensive Secret Ops Guide. It includes detailed mission walkthroughs, complete stats, game history and more!