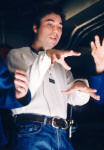 For those who haven't been keeping a close eye on Wing Commander creator Chris Roberts, AD came across the production notes for the recently released Lucky Number Slevin. They include an updated version of the biography posted to his Ascendant Pictures production company website. The document has various quotes about his involvement with with Slevin project and boasts about his success with the Wing Commander series. You can grab the small pdf here. Mr. Roberts is also a producer for half a dozen other projects due out over the next couple years. Expiration Date, Who's Your Caddy?, Outlander, Black Water Transit, Grounded and Seasons of Dust are all in the queue. Note that the fourth paragraph is incorrect. Digital Anvil was closed prior to publication of this biography.
Chris Roberts founded Ascendant Pictures in spring 2002 and in just a short time, established himself and the company as a force in the world of independent film production and finance. In 2004, Roberts earned an Executive Producer credit on THE PUNISHER and produced THE BIG WHITE and LORD OF WAR.

In 2005, Roberts served as Executive Producer on THE JACKET and the upcoming Robert Towne film, ASK THE DUST. The end of 2005 finds him prepping for two films aiming for a spring 2006 start: Neil Jordan's historical drama, BORGIA starring Colin Farrell and Scarlett Johansson, and the effects laden sci-fi Viking project, OUTLANDER. Roberts will also serve as Executive Producer on BLACK WATER TRANSIT.

Prior to founding Ascendant, Roberts was Chairman and CEO of Digital Anvil (DA), the game development and digital effects company he founded in 1996 with funding from Microsoft and Advanced Micro Devices. Roberts guided DA's growth to annual revenues of $14 million, prior to the release of many of its games in development. His innovations changed the gaming industry. His games were the first to perfect the use of 35mm film as narrative in interactive game titles, and DA became the first interactive entertainment company to produce a game title, WING COMMANDER, into a $25 million feature film, directed and produced by Roberts. The film starred Freddie Prinze Jr., Saffron Burrows and Matthew Lillard.

DA and the video game titles it created won numerous gaming awards and the company became a digital effects powerhouse, creating all of the digital effects for the WING COMMANDER movie and contributing to the digital effects for several other films, including SPY KIDS. In December of 2000, Roberts sold DA to Microsoft. DA remains a successful subsidiary of Microsoft and content provider for the XBOX.

In 1987, Roberts joined Origin Systems, Inc. (OSI), which was later acquired as a wholly owned subsidiary by Electronic Arts (EA) in 1992 for $30 million. Roberts was instrumental in OSI's growth from a company with $4 million in annual revenues to a company with annual revenues of $50 million. In 1990, Roberts developed WING COMMANDER, which set a new standard in PC games and evolved into a franchise series of game titles, all developed and produced by Roberts. With its cinematic quality, clearly developed storylines and well-known actors, the WING COMMANDER series created a whole new genre within the gaming industry known as the "interactive movie."

By 1995, the WING COMMANDER series had generated well over $110 million in revenues, and from 1990 to 1995, the series accounted for more than 60% of OSI's revenue. In addition to selling more than 3 million units worldwide by 1995, the series has also won a record setting number of gaming awards. To date, WING COMMANDER has generated over $400 million in global retail revenue.

A gaming wunderkind, Roberts sold his first computer game at the age of 14, and by the age of 20, Roberts had developed three #1 hits in his native U.K.: MATCH DAY, WIZ ADORE and STRYKER RUN.