One of our favorite DragonCon guests, Aaron Allston, is currently on tour to promote his new novel, Star Wars: Betrayal. He's been hopping around the Midwest lately and has a few more stops on his way home (autograph schedule below). Mr. Allston will also be appearing at the San Diego Comic Con from July 20-23 and Gen Con Indy from August 10-13. He's most famous for being the author of Wing Commander's Claw Marks, but he was also a writer and designer for The Secret Missions and Worlds of Ultima: The Savage Empire.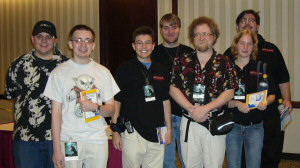 Saturday, June 10, 2:00 p.m.: Borders Books & Music (St. Louis). 10990 Sunset Hills Plaza, Sunset Hills, MO 63127.
Saturday, June 17, 2:00 p.m.: Hastings Books Music & Video (Austin area). 2200 S. IH-35, Suite B1, Round Rock, TX 78681.
Saturday, June 24, 2:00 p.m.: Borders Books & Music (Dallas). 1601 Preston Road, Suite J, Plano, TX 75093.
Saturday, June 24, 7:00 p.m.: Borders Books & Music (Fort Worth). 4601 W. Freeway, Fort Worth, TX 76107.