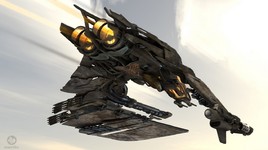 Roberts Space Industries has announced its comprehensive set of stretch goals for the remainder of their funding campaign. The project is now past $2.25 million dollars with the main site and Kickstarter combined, and there are now specific items that will become available in the final game at each $500,000 milestone. $2M unlocked the primary Squadron 42 campaign, and $2.5M unlocks a sixth starter ship. $3M unlocks the persistent universe with "Privateer-like gameplay." Check out the full list here, and note that some tiers are secret until later on.

A bonus set of stretch goals has been posted specifically for the Kickstarter. These open up extra rewards for certain pledge levels that are reached over there. In just over $50,000, the KS will reach $750,000, which unlocks a "class I repair bot" for all supporters. At $1M, each contributor gets 500 extra credits and the ability to pilot corvette size ships. It's a pretty interesting and engaging setup!

Finally, the end date of the main site's campaign has been sync'd to the ending of the Kickstarter, which means fans have until November 19 to pledge and help unlock these bonuses!
Initial Goal – $2+ million Pledged – MISSION ACHIEVED!

Star Citizens will get to play in the multiplayer dogfighting Alpha (12 months)
Star Citizens will receive access to the Squadron 42 campaign (18 months)
30 missions

$2.5 million Pledged

An additional flyable ship, the Anvil Gladiator

Stretch Goal 1 – $3+ million Pledged

35 missions in Squadron 42
Star Citizens will receive access to the Star Citizen universe for online persistent play (30 months) - Privateer-like gameplay
Multiple Star Systems to Explore – 40 star systems
Check this one out at the $5 million level! "Celebrity voice-acting for Squadron 42; we will bring back at least one favorite from Wing Commander!"