DefianceIndustries is here to brighten your weekend with a wonderful sunrise scene over Nephele. It shows the BWS cavalry dashing in to save a transport with a rugged assortment of tough ships. A mixed force of Rapiers, Razors, Vindicators and a Thunderbolt should be plenty to take on just about any pirate threat!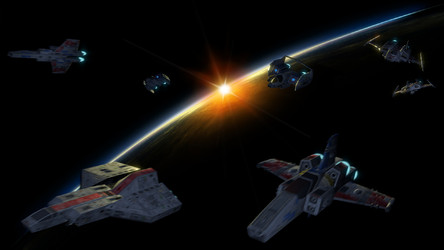 Pick your targets pilots, we caught 'em napping!

Pirates thought a food shipment out of Nephele would be easy pickings. Unfortunately for them, the militia caught wind of what they were planning and what should have been easy pickings turned into a quick and ugly furball when fighters from BWS Reliant came in over the pole and caught the pirates unaware...