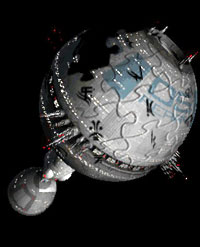 Here's a reminder about the IRC conference this weekend concerning the WCPedia Project. The event begins online in #Wingnut at 7 pm Eastern US time on Sunday, January 11, 2009. Newcomers can connect to the discussion easily via the Java Client. There should be a great conversation on organization, layout, writing styles, a working timeframe and much more. Any and all interested contributors are welcome, and fans who just want to sit back and watch are definitely invited as well.
To prevent automated spam abuse, new CIC Wiki accounts need to be individually approved. When registering, be sure to put a line or two into the 'biography' box to prove you're not a robot. It'd be a good idea to do this before the IRC meeting.
The short biography will help distinguish real requests from automated or fraudulous signups. You only need to enter a few words. A working e-mail address is also required. If it's taking us a long time to get to your request or if something went wrong in the process, you can contact us via e-mail, private message, or IRC.

We've also implemented a few junk filters in case some make it through the account confirmation process afterall. Be sure to report any unintended consequences (such as legitimate contributions being blocked!) as soon as possible.