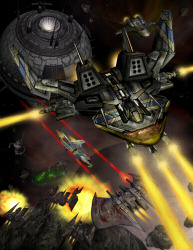 "Men, we have fought through the war together. I have done the best I could for you."
The battle is over, and I have placed... third - which means I've brought home an Xbox 360 Elite and 11,200 MS Points to give out to the Wing Commander community. We'll be figuring out a way for you folks to earn that prize in the next few days - be forewarned, you'll have to be a real WingNut!
The tournament was amazing, and remains largely a blur to me. I scored very poorly out of the gate - I began by getting myself stuck in the Boneyard's warren of caves... and ultimately managed to score only six kills! Luckily the second round was in the Space Station, where I managed to make up the difference somewhat, putting me into seventh place out of eight who would continue on.
Everything changed in the second elimination round. I flew a Broadsword Behemoth almost exclusively and then placed second (24 kills) and first (25 kills) in the respective rounds. The folks in #WingNut were watching via GamerTagRadio and cheering for me, my brother and my sister stayed up to watch me play, I was getting a constant stream of congratulatory messages via Xbox Live (I'm sorry - I couldn't read them during the fight!) and I was on top of the world.
... but it turned out we had to redo the last match! Someone had been left out. With some grumbling, we reorganized and fought again... and again I came in first with 25 kills! It was just amazing. I progressed to the fourth round, where I again picked the Behemoth... but came in only third. I won't lie, I relied pretty heavily on tractor beams and torpedoes, after finding that more maneuverable fighters didn't work in such a giant melee - but it was a heck of a lot of fun, regardless!
My sincere thanks to Electronic Arts for including the CIC in the contest. The goal was, after all, to gain some good press for Arena... so there was no reason they needed to include our site. They already know that we love the game for its merits and regardless of how the wind changes in the blogosphere.
Finally, congratulations to Super Dunners from xbox360fanboy.com, who won the home theater system! A special thanks to GamerTagRadio, too - Godfree did a fantastic job of covering the event (and Arena in general - if you haven't heard his interview with Sean Penney, check it out!).
And of course thanks to our wonderful community - for cheering me on, for believing in me and for putting up with me for ten years now. After the battle was over, everyone in #WingNut celebrated by playing three more rounds of Arena with me! It seemed only appropriate.