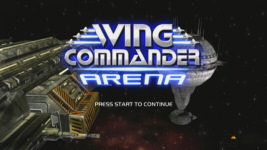 Here's one to watch for: a quick WHOIS lookup reveals that Electronic Arts has registered wingcommanderarena.com. Hopefully this means that there will eventually be a special Wing Commander Arena website available... every little bit of continuity helps! Here's the entry:
Domain Name: WINGCOMMANDERARENA.COM
Name Server: SEDNS.EA.COM
Name Server: SWDNS.EA.COM
Updated Date: 30-oct-2006
Creation Date: 30-oct-2006
Expiration Date: 30-oct-2008
EA also owns wingcommander.com, but the domain is still registered to the now-defunct Origin Austin studio.