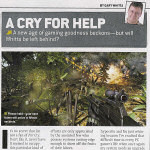 Goku wanted to share this brief editorial about the difficulties in keeping up with PC games. The author compares trying to run modern graphical marvels with demanding Origin titles in the past.
I remember the early 1990s all too well, when... the first Pentium processors rolled out. Developers like Origin Systems were falling over themselves to make games that could only be properly run if you had these bleeding-edge chips, while the majority of gamers still laboring with standard 486 processors had to endure Strike Commander experiences akin to a 3D slideshow.
A 486 was still pretty darn fast in 1993 when Strike Commander and the first Pentium came out. Quite a few of our readers can talk about waiting 10 minutes or more for missions to load in Wing Commander 3 the following year. The wait was always worth it though, and all that cutting edge tech has helped the series age extremely well.