Freddie Prinze Jr, who played the main character in the Wing Commander movie, will be getting his own television show this October. He has to learn to balance his love and family life after inviting four female relatives into his apartment. Video previews of the first episode are available here. FPJ will be leading the show as ABC's youngest executive producer in history. The pilot premieres Wednesday, October 5, 2005 at 8:30 pm on ABC.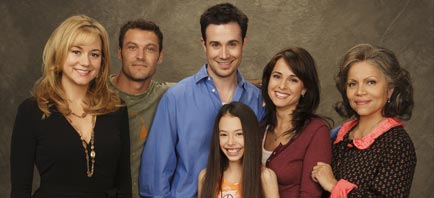 Four women to every man are great odds when you're a single guy out on the town, but not ideal when it comes to your living situation. Freddie is a young, successful chef with his own restaurant and a stylish bachelor pad. The world should be his oyster at this stage in life, but bachelorhood isn't working out exactly as he envisioned.
Bet you can't wait to see how that turns out.