New CIC Logo Live Today
At the CIC we follow a lot of traditions and are generally resistant to change. Occasionally there is talk of refreshing the layout and graphics of the site, but we really like the current look of things. The most prominent graphic is our site logo, which we are extremely attached to. Keen-eyed visitors might have noticed that the background of our logo is an actual screenshot from Wing Commander 4. Recently AD was able to help us pinpoint the original scene in the DVD version, and we've integrated that into our design. In this process we've managed to retain the same logo and its roots as a Wing Commander screenshot while sharpening it up quite a bit. You can see the comparison here. The little red ship is actually a Pirate Frigate and the blue bits are a Longbow and Arrow. The green is part of an asteroid.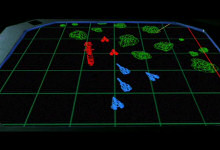 AD has prepared a 17 meg divx video clip of the briefing that our logo originated from, and BradMick has created a high resolution avi wireframe render of the scene.