Following up on his neat Drayman work, Cyberion has put together a Hellcat for people to use.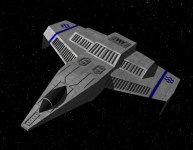 Not high on the poly count, so good for the fast rendering. :D Few details (nurnes) make it look very realistic from a distance. Originaly the model was created just to increase my modeling abilities. Currently it is being used in my personal freeware game based on the Wing Commander Universe.

With the zip you can find several texture files, textured model file and untextured model file. Also you may find the rendered image to show the model a little bit. ;) Ohh ya, you may distribute it freely while it goes with this text file. :D

I hope you like this Hellcat model. I spent three days making it, not very hard, but I put into it some soul. ;)
Neat. You can pick it up here.