More Homeworld 2 Badges Available To Play
StarSaint and Filler have released additional badges to use as ship logos in Homeworld 2. These are pretty neat and simple icons to attach to all your ships in-game. Click on any of the following names and save to the Homeworld2\Bin\Profiles\Badges subdirectory on your hard drive. The badges will be selectable when you choose your ship colors and preferences. You can find a Crius thread with additional badges and information on badge editing here. Try out Black Lance, Border Worlds Flat, Confed Star, Dark Confed Star, TCS Victory Star, Concordia Battlegroup, Kilrathi Emblem, and Border Worlds 3D.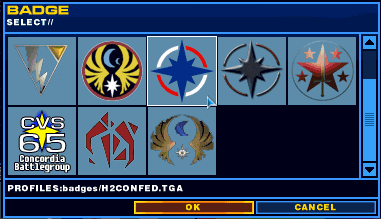 Weasel and Tye also snapped a few shots of these badges in use.