Cam has released an image that will represent background scenery in his upcoming Wing Commander Raiders project. Raiders will be a fan made movie. If you're not familiar with this one, there's already some impressive content on display at Cam's site. This image is suitable for desktop wallpaper at 1280x1024.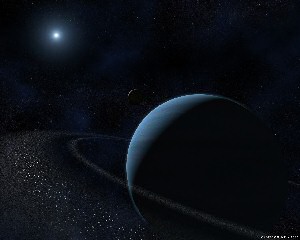 It's going to be the background. The cool thing is, it's never going to change. Since space is so vast anyway, the background will be static. I added the planets because I realized there was a lack of visual reference points in the environment, so the viewers had no way of orienting their vision. Movement directions would quickly become confusing. Except for my editing and cinematography, there would be no way of distinguishing who was going in what direction and who were the good/bad guys. I'm going to refine the rings (probably make the outer one a bit more harsh ending) and I have to make some graphics for the opposite side of the environment. Probably going to be a galactic rift looking thing like the great ice barrier in Freelancer.
It should be pretty neat. You can find some of our previous Raiders coverage here. Some of you might notice the pretty "# 5000" below. Yup, this is update number 5000. Due to some deletions and/or duplicates, our actual 5000th update will follow later this week.