An Artist's Conception of the Future that Could Have Been
Last year we reported about a professional artist who had been contracted to do ship designs for a version of Wing Commander Online. The game didn't make it, but his concept art persists on the web. People got to talking at Crius, and the result was Eder thoughtfully modeling some of the designs. Below is one I really like and think would have been especially pretty in an "ugly duckling" sort of way. You can find the models Eder made here. The original Wing Commander Online art that prompted this can be found here.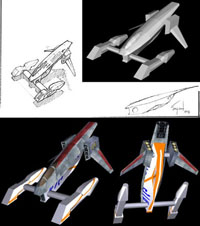 I kind of think of it as a Vampire gone wild.