Edison Trent, Freelancer from the future, sent out a cover letter to prospective players to let them know that his game will truly be out next week. Not only did the CIC get quoted, it got the best quote of the bunch. You can read it for yourself below.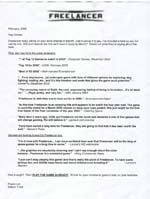 "...the graphics are stunning and I can't say enough about the color balance... Freelancer is a wonderful game." -Wing Commander News
Care for some context? You can read our Freelancer first impressions from December here. Our friends at Lancers Reactor and Lancers HQ were quoted as well.