elend came across a nice WC model from last weekend's WonderFest in Louisville, Kentucky. It's a modified version of the somewhat pricey unlicensed Fantastic Plastic Arrow model with a variety of custom modifications. This one's complete with a pilot and even a little lightning bolt squadron logo in the corner. I've stumbled across a few items like this over the years, and it's always a treat to run into a passionate Wing Commander fan in the wild that's dedicated to craft like this. If this is yours and you've got more photos, let us know!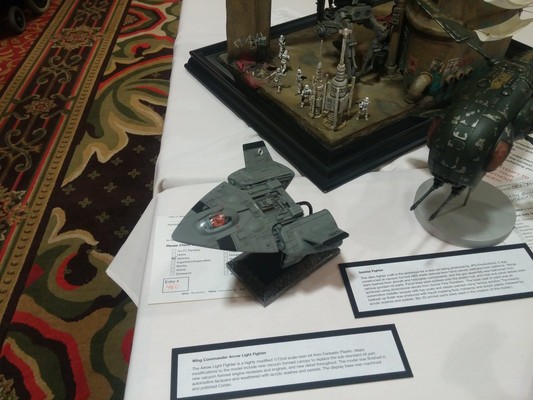 Wing Commander Arrow Light Fighter

The Arrow Light Fighter is a highly modified 1/72nd scale resin kit from Fantastic Plastic. Major modifications to the model include new vacuum formed canopy to replace the sub-standard kit part, new vacuum formed engine recesses and engines, and new detail throughout. The model was finished in automotive lacquers and weather with acrylic washes and pastels. The display base was machined and polished Corian.