Klavs has produced a glorious sequel to his recent Bearcat wallpaper. This one features three Hellcats zooming through the air - of both the old and new variety. It's the culmination of a model we've seen Klavs working on for over the past year. Although the Hellcat doesn't strike me as the most aerodynamic design, there's just something about how it hangs in the air that looks really good. And while it's not the most powerful offensive force, a few of them can put down some solid firepower!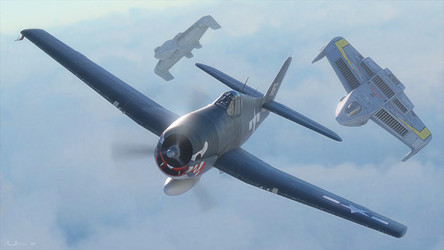 DefianceIndustries: Are those rivets done via texture or physically modeled?

Klavs: I do both nowadays, if they're flush they get bumped, if they're proud they're modeled. The rivets on the Hornet are all flush except in a couple specific cases. The panel lines are likewise modeled.