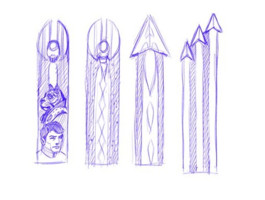 As the Through the Moongate, Part 2 Kickstarter continues to truck along, Andrea Contato has shared the first preview of the exclusive Wing Commander Bookmark that will be given to certain tier backers for the project. This design is being put together by Denis Loubet, the senior Origin artist responsible for art direction on the first few Wing Commanders. Initial elements highlight some of the arrowhead iconography from the WC1 logo as well as a dual Confed/Kilrathi headshots and perhaps even a Dralthi, which would be pretty awesome. The overall campaign is up to around €36,500. The bookmark giveaway will be rather limited, so hopefully everyone who wants one can get their pledge in within the next 10 days!
We are working non-stop to prepare the conclusion of this great project we started two years ago and pieces are already starting to come together. To that end, Denis Loubet has sent us a quick draft of his ideas for the Wing Commander bookmark with the appropriately named file "bookmarkrough.jpg" We already love it! Fans of the game will understand immediately who is pictured. There's no need to say more...

...but we will! We're investigating several printing options at the moment but we assure that it will be cooler than just a picture on a rectangle. As soon as we decide on the final output, you'll be the first to know! So what are you waiting for? Get yours now! After this Kickstarter, the bookmark won't be available anymore.

Lastly, we are only €1,450 short of the soft cover upgrade stretch goal, which will allow us to add black and white photographs to the soft cover edition. We are sure that we can reach this goal, but not without your help. Please take a moment to share this campaign and thank you so much for your support!