DigitalOrigami put together this neat scene featuring a group of capships entering a star system. It features Klavs' highly detailed Wake escort carrier, Southampton destroyer and Bengal strike carrier models. I really like the angle on these as it reveals some very exquisite ship structure detail that isn't normally visible. It also reminds me of the scene players would see out the TCS Victory's forward windows from the WC3 bridge or lounge. DigitalOrigami isn't quite happy with everything yet, so you can help with suggestions here.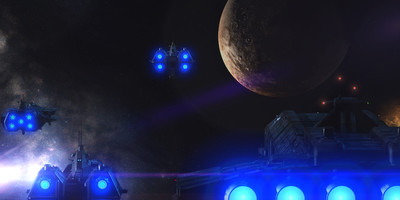 I'm going on kind of a slightly tense or dramatic approach, a task force scouting a new system kind of thing, not sure if I should have a few fighters or something (they'd be so tiny in this shot) or what exactly it is lacking. Any ideas would be appreciated.

I don't usually post WIPs as I blow through things way too fast, but in this case, I'm kind of stuck. This is an early idea that just isn't coming together for me. The lighting on the ships is wrong - I've since tracked it down to an errant directional light (modo has such lovely scene tools ). The background is from a "early access" piece of software on Steam called "Universe Sandbox 2" (which is tons of fun to goof around with - I've come up with some nice backgrounds and some really terrible backgrounds, but the software is about a year away from release according to the devs, so I'm hoping they add that next level polish).