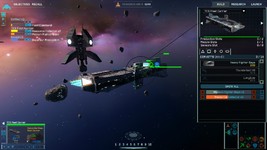 L.I.F. was up super late into the early hours of this morning to make sure a brand new iteration of the Homeworld Mod was ready to share today. Developer Gearbox released a major update to Homeworld Remastered this week, and it threw a serious monkey wrench into the works! Major portions of this (and all other) mods had to be recoded and adjusted to function again. In the long run after all the near term chaos, this will provide more flexibility and potential for new features. Today's new version 3.1 implements the beautiful new Border Worlds fighters that have been recently in the news. All four factions should be functioning again with AI back online and multiplayer available in beta with a command line switch. Try the game out here.
Latest update:

- A preview of things to come: three Border Worlds fighters in gorgeous HD, released for the Wing Commander CIC Birthday Party!

- Fix to have basic compatibility with the new update for the game (for the non-modders here, this update was a massive overhaul of the game structure, so everyone in the community is having a hard time updating their files, so please give us some time).

- This is the version 3.1b of the mod for Homeworld Remastered. All four factions are playable in addition to the vanilla ones. You can play both against the AI in local or in the beta multiplayer with people having this mod, by using the command line "-mpbeta -mod WC4FC_Remastered.big" in your Homeworld Remastered shortcut (found by Soulsavant).