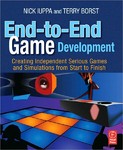 Terry Borst, one of the acclaimed writers of Wing Commanders 3 & 4, has co-written a book on game development. End-to-End Game Development: Creating Independent Serious Games and Simulations from Start to Finish is geared towards new game developers who have to perform multiple roles. Amazon provides a number of sample pages for prospective buyers to gauge the style and content. The first person who picks this up should let us know if there's any WC anecdotes!
About the Author
Terry Borst is a Writers Guild of America member with credits in feature films, episodic television, and videogames, including the award-winning WING COMMANDER III and WING COMMANDER IV, and Microsoft's space adventure game FREELANCER. He has also taught screenwriting and multimedia design at UCLA, USC, the College of Santa Fe, the Banff Centre for the Arts, Moorpark College and various conferences and workshops.

--------------------------

* Step-by-step no-nonsense approach to developing games from start to finish (graphic arts, software engineering, designing, producing, marketing all covered). Indy game developers will gain a clear understanding of what's involved.

* Demonstrates a proven process for meshing gameplay and story to create an immersive experience for the player.

* Even experienced game developers will benefit from some of the coverage, especially: setting curriculum goals, setting client expectations, and client management.