Part 9 of Frontier - Prelude to Darkness is out! This chapter is lighter on the combat, but does more to advance the story. Fans who are eager for more space battles won't have long to wait though. The next release is already written and about a quarter complete.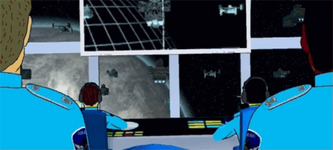 There is a little scene I was going to add onto it, but as the part had reached 8 minutes I figured I'd leave this next scene for Part 10.

A few folks were surprised by what happened when the EEV got opened. I promise everyone that this will fit into the main storyline very well and also will be fully explained as the story progresses – so fear not! This is not some random 'it was cool at the time' thing I'm doing, it's an element that has been built into the Frontier storyline for ages – we're talking about when I first wrote the first draft in 1997.

Another thing which was slightly unfortunate was the lack of space combat which is a main part of the Frontier storyline as well, however as I've said on almost every forum, Part 9 may not have space combat BUT what we see in this part is CRUCIAL to the storyline.

So overall I hope you enjoy it.