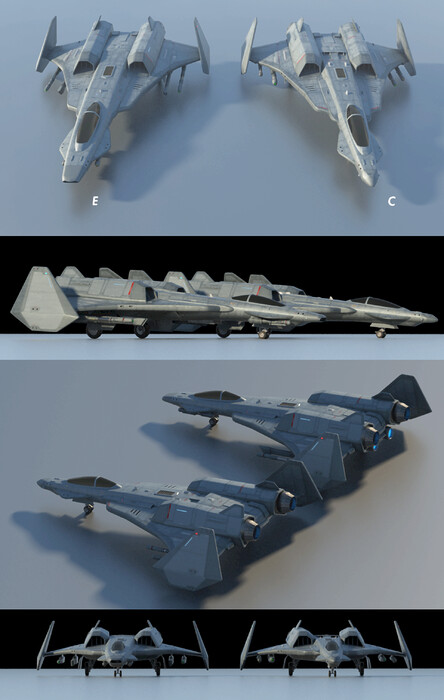 We've recently seen Klavs model a couple of early (WC1&2) era Rapiers, but there are a handful of intermediate designs implied in between those. Based on popular designs cues from some of his previous designs, Klavs has filled in the game with hypothetical Rapiers that might have flown before the workhorse version we're familiar with on the Concordia. The results are below! And he's definitely not finished with the Rapier here... You will be eventually be able to find these variants on Sketchfab.
I was thinking about the front intake version of the Rapier, I've been very humbled by how many other Rapier designs have included it over the years, I figured I would make it an option! So here's, I guess, the Rapier E, Wider Body, front intake, upper intakes deleted, extra engines like the G model. Extra hard points, extra gun positions.

Maybe the EF versions were license built by another Aerospace firm? Maybe Douglas built them under license when the Hellcat wasn't ordered in the numbers they wanted. Maybe the EF version is more robust and easier to maintain and build, but not as nimble as the C? Maybe the G is the amalgamation of the best lessons learned from the A-F? What is that intake even for? Is it for the ramscoop? Who knows! Who cares! I just like Rapiers!