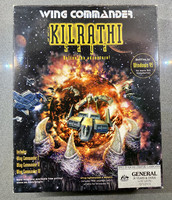 The original DOS versions of Wing Commander I and II included a handy debugging feature for instantly killing your current target (alt-delete) or every enemy on radar (alt-insert). You would activate these special keys by passing Origin as an argument to the game executable. Also passing -k would activate invincibility without changing your pilot name to CHEATER. Playtesting certain aspects of the game would have been a lot easier with these keys at your disposal.
When the Windows 95 ports came out as part of the Kilrathi Saga box set, this method no longer worked. Eventually, players figured out that you had to put Origin -k -b in Wingcmdr.cfg and WC2.cfg. This made sense, since passing arguments to the executable would have been a little less straightforward in Windows 95, and would have required players bypass the Kilrathi Saga launcher menu. For the next 23 years, we assumed that these "finger of death" keys were not carried over to the new versions.
Nudged by ghost wolves, Stinger did some research and found that the alt-delete combination was remapped to ctrl-delete in the Windows 95 port! He also figured out that you have to create an empty file named ctrl.del in the directory where the game executable resides. We don't know if there is an equivalent combo to kill everything on radar. If it follows the same pattern, creating ctrl.ins in the game directory and pressing ctrl-insert might do it. Let us know in the comments how that turns out!
While the Kilrathi Saga versions are arguably not the ideal way to experience the original games in 2020, it's amazing that talented fans are discovering new ways to cheat more than two decades after release!