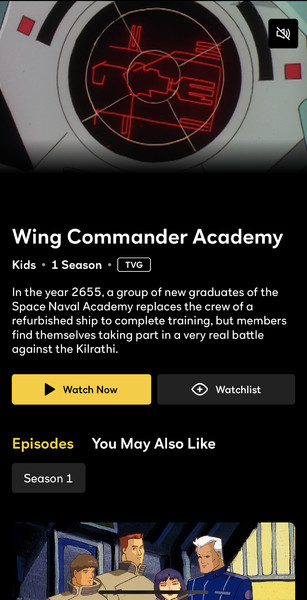 Peacock is live and that means the highly anticipated streaming debut of Wing Commander Academy is here! The good news is that the sound appears to be much better than in other iterations of the show, so it seems like this is probably the definitive edition to watch. On the other hand, the brief segment missing from "On Both Your Houses" is absent on Peacock. For the DVD release, VEI was able to replace the missing ten seconds from that episode with footage from LOAF's archive.

I also neglected to mention yesterday that there is also a fully free tier available to everyone. It's heavily supported by ads (compared with minimal ads on the Peacock "Premium" and zero ads present on "Premium Plus"), but that means anyone and everyone can watch Wing Commander now. Comcast customers' free package is equivalent to Premium. The platform is currently available on Apple devices (iPhone/iPad/Apple TV), Google devices (Android, Android TV & Chromecast), LG & Vizio TVs and Xbox One consoles. It's pretty awesome to be able to call up and stream Academy any time on your phone now!

Last, but not least, LOAF put together this awesome tweetstorm roundup of all the ships in the show to celebrate its release - enjoy!
Let's escape reality with a thread showing off all the series' often-familiar spaceships. Magnum launch, all fighters up... insane crossover episode adds two ships in order to introduce Michael Dorn's Warrior King: a Kilrathi tug and a 25th century human sleeper ship! CIC Discord! We're very friendly.