Cheat Sheet: WC4 Turrets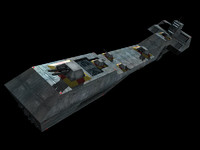 This is a followup to our article on Wing Commander III capship turrets. Wing Commander IV did not include a printed manual with detailed ship specifications, so this is not so much a correction as it is an addition! These counts are most interesting where they differ from those in Wing Commander III; in several cases, the same ship model is used with a different turret setup.
The Concordia-class carrier is the strangest of the group, featuring nine laser turrets and a clearly visible 'space' for a tenth. In flight, this tenth turret always shows as destroyed (on both the Lexington and the Princeton) though it is visible in cutscenes. Another interesting change to call out is that the Border Worlds version of the Tallahassee-class cruiser lacks the 'twin' turrets on the center/top that are still included on the Confederation model. The yellow turrets found on the Vesuvius are often mistaken for antimatter guns; they are heavy photons.
CapShip Missiles are used sparingly in Wing Commander IV, though the disclaimer from the WC3 article applies. THe Caernaven frigate fires up to three during Orestes 1. All stats are 'in game,' so while it's likely the destroyer and cruiser can carry the missiles (as the same designs mounted them in WC3) they are not mentioned below. Both warships are 'nerfed' from their WC3 state, replacing all previous anti-matter guns with lasers (presumably because the player must fight them regularly instead of defend them.)
Transport (Clarkson-class)
(2) Dual-Mount Laser Turret

Transport (Evansville-class)
(4) Dual-Mount Laser Turret

Destroyer (Southampton-class)
(9) Dual-Mount Laser Turret

Cruiser (Tallahassee-class, Border Worlds Version)
(10) Dual-Mount Laser Turret

Cruiser (Tallahassee-class, Terran Confederation Version)
(12) Dual-Mount Laser Turret

Frigate (Caernaven-class)
(4) Dual-Mount Laser Turret
(3) CapShip Missile Launchers

Light Carrier (Durango-class Conversion)
(8) Dual-Mount Laser Turret

Carrier (Concordia-class)
(9) Dual-Mount Laser Turret

Heavy Carrier (Vesuvius-class)
(14) Dual-Mount Heavy Photon Turret