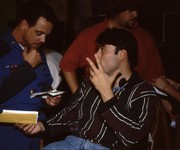 There's a new PC World interview making the rounds that takes a moment to pull Mark Hamill away from Star Wars Episode VIII filming to talk about some of the other sci-fi ventures he's been involved with over the years. Major topics include working with Chris Roberts again as well as the shift from live FMV to motion-captured CGI video. He notes that the majority of his Squadron 42 work was a reunion with John Rhys-Davies. Older articles have pointed out that his sons used to play Wing Commander in the '90s, and now he mentions that they're returning to video games in their 30s. There's also a comment about how lucky he's been with Wing Commander, which was practically as lucrative as his Star Wars gigs! Check out the full article here.
What was it like reteaming with Chris Roberts after so many years?

And with Chris, from the first time I met him, I just could relate to him so easily. He's fun to be around. He's incredibly smart, so personable, so knowledgeable and passionate about the project that he was describing. I played games with my children when they were small, but at this point, I really didn't understand what a leap forward the technology has taken over time, so I had no expectation. I thought this was a closed chapter in my life, and when he called and said, I'd like you to do this, I didn't even have to read the script. I accepted immediately because I trust him so deeply.

One of the things that always got me about video games was there was nowhere I could go and just gather my thoughts without being attacked. It was always comets falling out of the sky and holes opening up with quicksand and all that. I just need to gather my thoughts. Can I jump up in a tree and just chill? Well, the answer is no, but not in this version. It's more than a game. It's an all-encompassing experience that you control. I can't tell you how exciting it is to always be at least close to cutting-edge technology. I've been so lucky in my career, not just in Star Wars, but with Wing Commander, and now with Squadron 42.