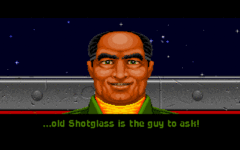 Canteens across the fleet have been getting pilots hammered for decades, but few people realize that many bartenders offer a second, secret menu with drinks that are regularly requested but rarely publicized. We've compiled a list of the most exclusive (and gut wrenching) spirits that are out there. They won't always be available but they're worth asking for the next time you want to black out.
Outback Lager
Tamayoan Fire Wine
Outhouse Armageddon
Goddard Special
New Samarkand Vodka

Vega's Best
Firekkan Fire Liquor
Kumquat Opi-Ola
Uncle Kashumai's Bowel Loosener
Altarian Brandy
And finally, the Rostov Hairball. Down the hatch!