It's been another productive week for George Oldziey's mission to produce a Wing Commander album with a live orchestra. An impressive $20,000 has now been pledged toward the cause. However, the funding drive is now in its final seven days, and another $15,000 must be contributed or no funds will be paid out and the album won't move forward! A lot of people wait until the end of a fund raiser to donate, however, so we're all hopeful that your generous pledges are still on the way.
In order to spur some big numbers, two very exclusive $3,000 tiers have been added. The first offers up an authentic Kilrathi rifle used in the opening sequence of Wing Commander 3. It's from the personal collection of Ben Bandit (LOAF) Lesnick, who doesn't give up priceless Wing Commander memorabilia lightly! But this is a worthy cause, and the rifle will surely find a loving home. The second $3,000 item is a rare leather jacket given only to the development team at Origin who made Wing Commander 3. This one was given to George in 1994. Finally, the $5,000 option to sit in the booth during recording and choose some of the music that will be produced has been lowered to $3,000.
Hello everyone!

I'm Ben Lesnick, Community Manager and Designer on Chris Roberts' Star Citizen. Many of you know I initially became involved in Star Citizen's campaign because I ran the Wing Commander community at WCNews.com for over fifteen years. Star Citizen is full steam ahead right now, but the Wing Commander universe will always be my first love... and I'm incredibly excited to hear the Wing Commander III, IV, and Prophecy the way it was meant to be heard. George Oldziey's project is, to my mind, the most pure use of crowd funding possible: he's not funding a product to sell, he's doing this so that we can hear music that wouldn't otherwise exist. When you think about it, that's pretty cool!

To that end, I'd like to do whatever I can to make it a reality. I'm kicking in one of the star pieces from my personal Wing Commander collection as a big ticket item to try and make this recording session happen: a Kilrathi rifle prop used in Wing Commander III. Watch closely during the introduction or any of the other Kilrathi court scenes and you can see it in the background! It's a really cool prop weapon made of wood and plastic, and looks great on a shelf. It's one of the few physical items made for the Wing Commander III shoot, and it has decorated my office for years (my wife will be very happy to see it go!)

Now get out there and pledge; I want to hear this music!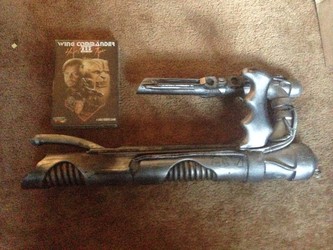 Greetings all! First of all, I want to truly thank EVERYONE for their great support so far. You've all been amazing! I've noticed several people increasing their pledges over the last few days. That is truly inspiring and humbling for me!

We are approaching our final week of pledging. For those of you who may be new to Kickstarter, basically if you don't reach your goal the project does not get funded. So I'm hoping that we can meet the target number in the next 7 days so that we can have AT LEAST 15 minutes of fully orchestral Wing Commander music! It's been my dream since I wrote the first notes for Wing Commander III!

But even if we don't get there, I'll always remember the tremendous support from all of you.

Always,

George