"Officially amazing" is the catchphrase of Guinness World Records. For a number of years now they have been publishing a version of their popular record book geared towards video games. Unsurprisingly, Wing Commander makes the grade in several categories. Of course, we don't need Guinness to tell us how amazing Wing Commander is. Regardless, the recognition is appreciated.
The book covers all consoles and gaming levels, as well as a special section on ... Space Games (Star Trek, Wing Commander, Star Wars).
Among the entries, Wing Commander 3 is recognized as the "First use of an animatronic character in a video game."
In 1994, Wing Commander III: Heart of the Tiger became the first video game to use animatronic characters in its FMV footage. These mechanized characters were used to depict the Kilrathi aliens and cost $200,000 (£100,000).
Other entries for WC titles include first speech pack, First multiplayer space combat game, and First Hollywood star to top both film and video game charts. Some of the recipients, including Mark Hamill, were apparently even presented with framed version of their records.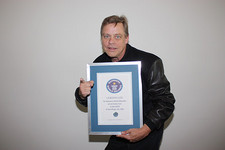 Then there was Luke Skywalker himself, Mark Hamill – the First Hollywood star to top both film and video game charts thanks to his role of Colonel Christopher Blair in the No.1-selling Wing Commander PC games.