PC Guide Reviews Wing Commander Prophecy
We conclude our series of old Prophecy reviews on another high note with this one-pager from the Spring 1998 issue of PC Guide. The reviewer deems Prophecy the "best Wing Commander yet" and is endeared by the variety of flyable craft and the "stunningly beautiful" 3D-accelerated graphics. Negatives are lack of variety in the missions and too little focus on game tactics. Overall, Prophecy scores a solid 5 on PC Guide's 6-star rating scale. The game also receives a "best buy" stamp of approval!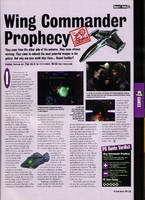 Thanks to Pix's Origin Adventures for these great scans! You can find the PC Format, PC Gamer and PC Home reviews in the archives.