pigsonthewing is an avid Galactic Civilizations player, and he's spotted a ship pack that's inspired by the fleets of Wing Commander. The author has taken a bit of artistic license, but the similarities are clearly there. Grab it here or here! (1.7 meg zip)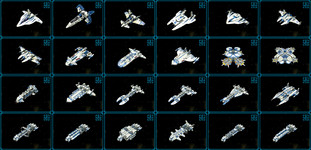 These 24 ships should work in the metaverse since no mods were installed during the design and mods were deactivated in the main menu. Please read the readme.txt for further informations and how to install. These ships will also work in regular games.

Requirements: GalCiv2 Dark Avatar 1.6 (i don't know if it will work on older versions too), Collectors Edition Structures if you don't have the latest patch.
The author of the pack above is Midnightrunner, who created a set of glorious Confed & Kilrathi vessels for GalCiv2 several years back. Unfortunately, the source files for this mod were lost at an external site, and all we currently have are pictures. If someone managed to pick this one up back in the day and still has a copy handy, please let us know so we can host it for others!