Fan Project Looking for Hostile Players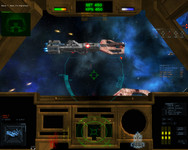 Kevin Caccamo reports that he's nearly ready to start some limited playtesting of the WC Hostile Frontier mod. If you're up to providing feedback for this project, let Kevin know at the CIC Forums.
I've been doing some more work on WCHF lately. First of all, the development version of the mod is now compatible with WCSaga final, and thanks to someone on the HLP forum, we got WC Saga running on standard FSO builds. I'll be starting a short beta test soon.