This wallpaper isn't Wing Commander-related, but it was made by a talented Wing Commander fan. "Sunset Over The Bay" is Klavs's take on WW2 carrier aviation, and it's a pretty sweet scene!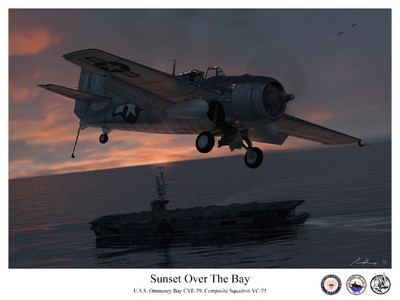 Hi guys, it's not strictly Wing Commander, but since it's WW2 History related I figured I could squeak by. Here's my latest piece. Couldn't stop thinking about the TCS Tarawa as I worked on this one!

Ensign Douglas S. Adams in FM-2 BuNo 55410 "White 10" of U.S.S. Ommaney Bay (CVE-79) cranks down the landing gear in preparation for one of the last landings of the day.

The aircraft was later ditched and unrecoverable by Ensign Adams as he ran out of fuel short of the runway at Ponam. It may still be there under 20' of water.

The Ommaney Bay was struck by a Kamikaze aircraft in January 1945 and sunk with 93 of her crew, including Ensign Adams.