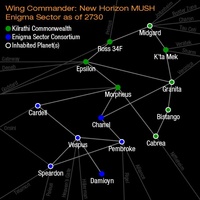 A new text-based Wing Commander role playing game is in development, and the team working on it would like to share their latest progress. They're made up of experienced MUSHers, and the plan is to make the new adventure more widely playable within just a few more months. There is an active Facebook Page dedicated to posting development updates, and they've just posted a big background story summary here.
I'm excited to let everyone at the CIC know about a new text-based storytelling/roleplaying community that's in the works! Set in the WC universe and using the MUSH platform, our game is a spiritual successor to the WC: Red Horizon MUSH that closed in 2002 and is set in the same universe/continuity, so it's a little bit divergent from the "strict" WC canon at this point, but if you enjoy text-based roleplaying games (or are willing to give it a shot!) we're aiming to be able to get you up to speed very quickly, whether you're new to MUSHing or a seasoned pro.

The game is currently in active development with a build team of about 10 people and we're definitely on track for opening to new players sometime before the end of the year. You can follow along with our build team on our Facebook page at http://www.facebook.com/wcmush - we're posting updates every few days and are happy to answer any questions you might have - just post 'em there! In particular, we just posted up a brief summary of our game's setting and theme here.

Thanks!