A New Challenger Awaits
AAN has produced some of the Shapeways models by Astro Commander with great results. The first ship he's painted is a Dralthi IV. Check out all that fine detail! I especially like the complementary stand and red wing highlights.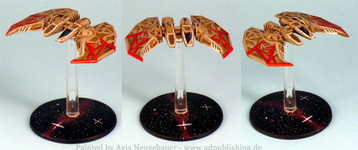 I have recently bought some of Astro Commanders Models from his Shapeway site. Very nice stuff, just be sure to select ultradetailed material. ;) More soon!