With 105 updates, you can't be right all of the time! Here are some important corrections to the historical material offered last week.
First of all, thanks to Paul Hughes: this member of the Privateer 2 team is not Nick Elms but in fact Nick Goldsworthy!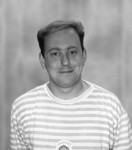 Then, thanks to Billy Cain: this mockup was not for planning Wing Commander Prophecy's multiplayer feature... it was for planning an animated main menu. Billy explained that the menu would have been similar to Quake, with the words appearing one at a time.